43. Exercise regularly
This year I am using my Christmas money for personal training sessions. I get an
awesome
deal through work (they pay half), so I figured this would be as good of time as any to get into shape! Hopefully this will help me check this one and all of the other exercise related items off the 101 list.
55. Create and maintain beauty routine for skin, hair, teeth, etc. for 3 months
56. Get a makeup consultation
I should start this update by stating that I am completely head-over-heels in love with Mary Kay. Their products are incredible and it doesn't hurt that my Mary Kay lady is just so much fun! So for Christmas I was able to expand on the colors from my consultation and get the microdermabrasion set. I love this so much!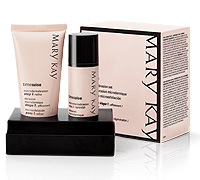 63. Learn to knit
64. Knit something that can be used
My very talented neighbor (the one who taught me to run) also recently taught me how to knit. I have really been enjoying myself. So for Christmas I got a few more sets of needles, yarn and an awesome cable knitting book. On Christmas Day I completed my first item: coffee mug koozie!

74. Decorate my office
My office is definitely getting very closed to finished. However, I saw this calendar and couldn't pass it up! It is so colorful, yet so practical! This was an early Christmas present since it was too cute to wrap.